On April 26, 2019, professional service firm Stantec received the Consulting Engineers of Ontario Award for its work developing the First Nations Infrastructure Resilience Toolkit (FN-IRT) in partnership with Ontario First Nations Technical Services Corporation (OFNTSC). The award recognizes the importance and innovative nature of the FN-IRT as a tool that can used by First Nation communities to identify how their infrastructure may be impacted by climate change and develop an asset management plan.
The FN-IRT was adapted from the widely recognized Engineers Canada's Public Infrastructure Engineering Vulnerability Committee (PIEVC) protocol specifically for use by First Nations communities, many of whom are remote and isolated, and face unique risks from extreme weather, temperature, and precipitation due to climate change. The toolkit works by braiding together engineering information and Indigenous Knowledge to identify potential climate change impacts on a community's infrastructure. Once these risks are identified, they can be taken into account in decisions regarding the maintenance, repairs, and replacement of roads, bridges, wastewater infrastructure, water treatment facilities, and more.
The FN-IRT is more streamlined than the original PIEVC protocol, making it suitable for use by small or remote First Nations with limited resources. Where First Nation communities may lack historical climate data, lndigenous Knowledge can be used to fill in gaps. Through understanding the risks of climate change to infrastructure, communities will be able to prepare for possible disasters before they happen and recover more quickly when they do occur.
The FN-IRT toolkit has been piloted in three First Nation communities: Mohawk Council of Akwesasne, Oneida Nation of the Thames, and Moose Cree First Nation, where it was used to assess climate change impacts on water and wastewater systems, housing, and schools.  Between 2018 and 2020, Crown-Indigenous Relations and Northern Affairs Canada's First Nation Adapt program will be funding ten training sessions on applying the toolkit to 200 participants across Ontario.
We congratulate Stantec on their receipt of the Consulting Engineers of Ontario Award and their excellent work designing the toolkit in cooperation with OFNTSC. We look forward to learning how First Nations are applying this valuable tool in their communities.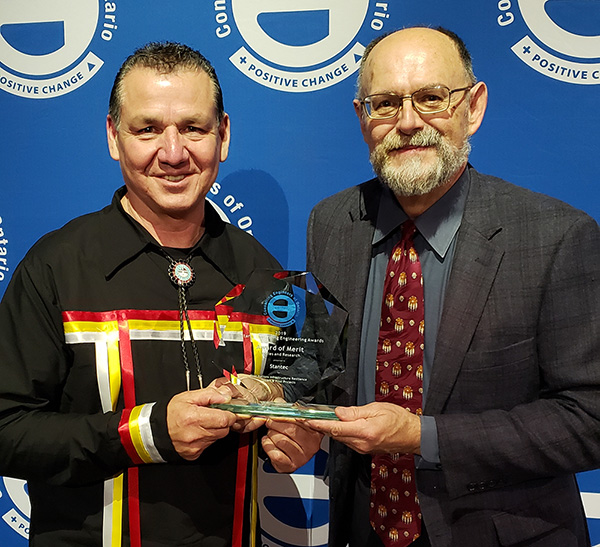 Photo caption: Elmer Lickers from Ontario First Nations Technical Services (left) and Guy Félio from Stantec (right) receiving the Consulting Engineers of Ontario Award.
Author: OFNTSC
https://indigenousclimatehub.ca/wp-content/uploads/2019/06/2019-OCEA-FN-Infratsructure-Resilience-Toolkit_crop4.jpg
301
600
IndigenousClimateHub
https://indigenousclimatehub.ca/wp-content/uploads/2020/10/logo-horiz-clr-01-small-300x88.png
IndigenousClimateHub
2019-06-26 19:32:06
2019-07-16 01:34:12
Award-winning New Tool Helping First Nations Adapt their Infrastructure to Climate Change