Current Funding Opportunities
Canada's Partnership with Indigenous Peoples on Climate
The Canada's Partnership with Indigenous Peoples on Climate webpage includes a box titled "Funding for Indigenous Peoples."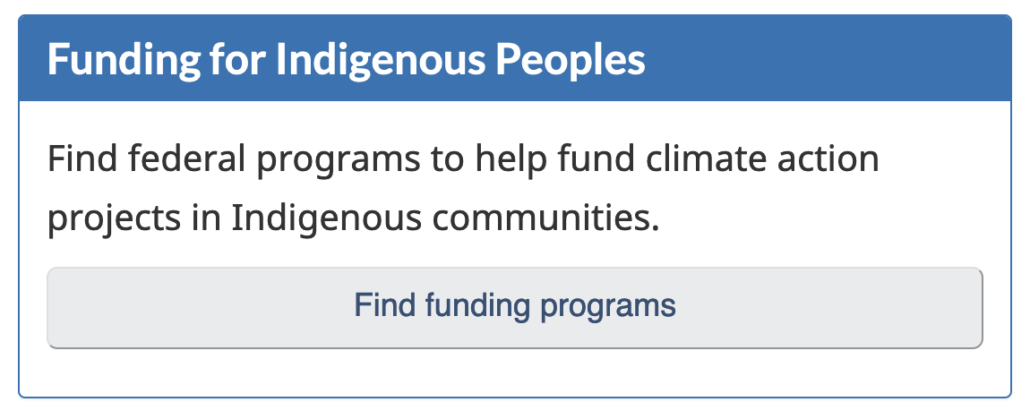 Indigenous Climate Funding
The link found above via the "Find funding program" button takes the user to the Indigenous Climate Funding webpage. Through this webpage, the user can filter through the various funding programs by distinction, type of program, ongoing intake, and topic.
Indigenous Community-Based Climate Monitoring Program
Description: The Indigenous Community-Based Climate Monitoring Program at Crown-Indigenous Relations and Northern Affairs Canada (CIRNAC) is now accepting proposal applications from First Nations South of 60⁰ N.
Who: First Nation band councils, tribal councils, treaty offices, governments of self-governing First Nations, and other First Nation organizations south of 60⁰ N in Canada are eligible to apply.
What: The program is currently accepting proposals for community-based climate monitoring projects:
The program has approximately $3.4 million in funding available in fiscal year 2024-2025 and $3.7 million available in 2025-2026 for First Nations projects south of 60⁰ N.
We anticipate funding about 20-25 First Nations projects.
Applicants can apply for up to two years of funding.
When: Applications are for projects that would begin in fiscal year 2024-2025 (April 1, 2024 to March 31, 2025). The deadline to apply is Friday, October 20, 2023 at 11:59 pm Pacific Time.
Why: To generate information using Indigenous Knowledge Systems and western science for informing climate change adaptation efforts and addressing data gaps.
How: Contact the program at surveillanceclimat-climatemonitoring@rcaanc-cirnac.gc.ca to discuss your project idea and to receive an application package.
Information: View the recording of the English information webinar that was held on September 14, 2023 at https://vimeo.com/indigenousclimatehub/icbcm2023.
Program Website: https://www.rcaanc-cirnac.gc.ca/eng/1509728370447/1594738205979.
Indigenous Services Canada's Climate Change and Health Adaptation Program for First Nations South of 60°N
Description: Call for proposals now open. This program funds First Nations communities' efforts to identify, assess, and respond to the health impacts of climate change.
Deadline: The program is accepting proposals until October 20, 2023, 11:59 pm Mountain time.
Website (Info): https://www.sac-isc.gc.ca/eng/1536238477403/1536780059794#s3
Contact Information: Please submit all questions and proposals to the general inbox: sac.cchap-pccas.isc@sac-isc.gc.ca and a program officer will be in touch with you. The CCHAP team is available any time for questions or clarity on eligibility, what can be funded, and for review of draft proposals.
NRCan's Climate Change Adaptation Program (2022-2027)
Description: The call for proposals is open for the 2022 to 2027 period.
About the Climate Change Adaptation Program
NRCan's Climate Change Adaptation Program (2022–2027) helps to position Canada's regions and sectors to adapt to a changing climate. The Program aims to:
Support decision-makers in identifying and implementing adaptation actions;
Enhance adaptation knowledge and skills among Canada's workforce; and
Increase access to climate change adaptation tools and resources.
The Program is soliciting proposals for cost-shared projects that will make important contributions to advancing adaptation progress in Canada. Up to $15 million in funding may be awarded through this Call for Proposals.
We welcome proposals for projects that address climate change adaptation on the following topics (see the Applicant Guide for more information):
Adaptation skills
Economics
Emerging issues
Natural resource sectors
Projects requesting less than $150,000 of NRCan funding will not be considered through this Call for Proposals.
Note: The Government of Canada may fund up to 60% of the total project costs, with the exception of projects led by Indigenous organizations, governments or communities or by Territorial governments, where NRCan may fund up to 100% of the total project costs.
Eligibility
This Call for Proposals is open to individuals and organizations that are incorporated or registered in Canada, including:
Academic institutions;
Non-governmental organizations;
Industry, research, and professional associations;
Companies and businesses;
Indigenous communities or governments;
Community, regional and national Indigenous organizations; and
Provincial, territorial, regional and municipal governments and their departments and agencies.
How to Apply
Visit Climate Change Adaptation Program website for more information on how to apply.
Upcoming Information Sessions
The Program will host two virtual information sessions to provide information about the competitive process of this Call for Proposals and to answer questions from applicants:
Looking for More Information?
Visit the Climate Change Adaptation Program website for more information.
(Information Source: Natural Resources Canada)
Emergency Management FireSmart Program
Description: The call for proposals is open for the 2023 to 2024 period. Proposals will be reviewed on an ongoing basis until funding is exhausted.
About the Program
The Emergency Management Assistance Program (EMAP) provides funding to First Nations communities so they can build resiliency, prepare for natural hazards and respond using the 4 pillars of emergency management:
mitigation
preparedness
response
recovery
EMAP supports wildland fire non-structural mitigation and preparedness initiatives through the FireSmart funding stream. FireSmart builds skills in First Nations communities to prevent and prepare against wildland fires. Programming involves training First Nations teams in wildfire suppression duties, as well as fuel management and vegetation clearing, which reduces the intensity and spread of wildfires. FireSmart also leverages Indigenous knowledge of the local environment and terrain to improve emergency planning, preparation, and response to wildfires. FireSmart project funding is available for initiatives, such as:
wildfire pre-suppression planning
wildfire risk assessments
fuel reduction, forest thinning, prescribed burning
fire breaks
wildland fire crew training
vegetation management
fire mapping
FireSmart training, workshops, conferences
community and youth engagement
Funding for risk assessments is also available through the First Nations Adapt Program. Fire-related infrastructure projects may be eligible under the Capital Facilities and Maintenance Program. Consult your ISC regional office emergency management contact for guidance on which program best suits your needs.
In British Columbia, FireSmart funding for First Nations communities is administered through the First Nations Emergency Services Society (FNESS). Please contact FNESS directly for any FireSmart-related projects in BC.
The Emergency Management Assistance Program (EMAP) allows for the purchase of low-value equipment for emergency preparedness and mitigation projects through the program's proposal-based funding streams:
Non-Structural Mitigation and Preparedness
FireSmart
Examples of low-value equipment include:
firefighter protective gear
vegetation management equipment
fire suppression tools
To learn more, consult the Low-value equipment purchases under EMAP page.
Who Can Apply
First Nations communities
Tribal councils
Indigenous organizations
Eligible Activities
To be eligible for funding, the proposed project must directly support First Nations located on:
a reserve, as defined in s.2(1) of the Indian Act, R.S.C (Revised Statues of Canada 1985, c. (chapter) 1-5
lands set aside in Yukon as per Cabinet Directive (Circular No. 27) entitled Procedure for Reserving Land in the Yukon and Northwest Territories (1955)
or
lands formerly defined as a reserve of lands set aside which now form part of modern treaty settlement lands
Deadline
Project proposals will be considered on an ongoing basis until the funds are exhausted or until March 31, 2024.
For more information, including how to apply, visit link below:
Disaster Mitigation and Adaptation Fund
Description: Infrastructure Canada's Disaster Mitigation and Adaptation Fund is accepting applications until July 19, 2023, at 3:00 p.m. (EDT).
Eligible projects – include new construction of public infrastructure and/or modification or reinforcement of existing public infrastructure, including natural infrastructure, that prevent, mitigate or protect against the impacts of climate change, disasters triggered by natural hazards, and extreme weather.
Join one of the webinars for guidance on preparing a strong DMAF application. Infrastructure Canada will provide an overview of the program, its requirements and advice to help applicants navigate the application process.
If you are interested in attending one of the webinars, please visit Infrastructure Canada's webpage to register. You can also consult the applicant guide for more information.
Indigenous Natural Resource Partnerships (nrcan.gc.ca)
Description:
The Indigenous Natural Resource Partnerships (INRP) Program aims to increase the economic participation of Indigenous communities and organizations in the development of natural resource projects that support the transition to a clean energy future.
INRP has $80 million in Contributions funding for projects that:
increase the capacity of Indigenous communities to engage in, benefit from, actively participate in and/or capitalize on economic development opportunities in the natural resource sectors;
increase the investment and/or collaboration between Indigenous Peoples and other natural resource development stakeholders, including governments, industry, and non-governmental organizations.
Priority will be given to projects that:
result in benefits to multiple Indigenous communities and/or organizations
support community capacity to transition to and participate in projects that contribute to Canada's net-zero objectives and shift to clean energy (including critical minerals development).
Deadlines: NRCan is accepting an ongoing intake of applications for the INRP program. All projects must be completed by March 31, 2027.
For a complete list of assessment considerations, please refer to the INRP Program Guide (available on the NRCAN Website).
Please contact Debora Stone at inrp-prna@nrcan-rncan.gc.ca for more information or to discuss your project idea.
Eligible Activities
Examples could include:
Studies, plans, evaluations, assessments or related activities to identify or develop economic or business opportunities
Strategic, business, human resources, marketing and financial planning or community economic development planning
Identification of opportunities, application and development of agreements or licenses
Development or expansion of Indigenous joint ventures, partnerships or businesses
Capacity development and training
Development of tools, technology, products, services and systems
Engineering design, environmental planning and permitting or other project design activities
Site development, facility construction and commissioning, and business start-up and expansion operations
Budget 2022 allocated $100 million over five years starting in 2022-23, to renew and expand the Indigenous Partnerships Office (IPO) and the INRP Program to make it a national natural resource sector-wide program. At least $25 million of this funding is to be dedicated to early engagement and Indigenous communities' capacity building to support their participation in the Critical Minerals Strategy.
Please visit NRCAN Website for more information: https://www.nrcan.gc.ca/our-natural-resources/indigenous-natural-resources/indigenous-natural-resource-partnerships/22197.
Indigenous Guardians – Canada.ca
Description: Indigenous Guardians funding provides Indigenous Peoples with a greater opportunity to exercise responsibility in stewardship of their traditional lands, waters, and ice. Funding for Guardians initiatives supports Indigenous rights and responsibilities in protecting and conserving ecosystems, developing and maintaining sustainable economies, and continuing the profound connections between natural landscapes and Indigenous cultures.
Eligible Organizations: Indigenous communities, Indigenous Nations, governments, and representative organizations are eligible for funding under Indigenous Guardians.
Application process: An application process will be open for First Nations Guardians Initiatives (Tiers 1, 2 and 3) in 2023-2024 in two streams to provide continuity in funding for existing First Nations Guardians recipients, while providing the opportunity for new or returning applicants to apply.
To learn more, visit https://www.canada.ca/en/environment-climate-change/services/environmental-funding/indigenous-guardians.html.
Clean Energy in Indigenous, Rural, and Remote Communities
Deadline: None (applications are reviewed on an ongoing basis)
Description: This federal funding focuses on Indigenous, rural, and remote communities using diesel or fossil fuels for heat or power. It supports all project stages and a variety of technology types. Indigenous-owned or led projects, or projects with community partnerships, are prioritized.
Website: Clean Energy in Indigenous, Rural, and Remote Communities
Contact: nrcan.remoteenergy-energieadistance.rncan@canada.ca
Climate Action and Awareness Fund –Advancing Climate Change Science and Technology Request for Proposals
Environment and Climate Change Canada's Climate Action and Awareness Fund (CAAF) has opened a request for proposals (RFP) for Advancing Climate Change Science and Technology Research. The RFP will fund up to $59M for projects that will strengthen Canada's science capacity to understand, identify, accelerate, and evaluate actions towards achieving net-zero greenhouse gas emissions by 2050.
Please visit the CAAF website for more information.
Information from: Climate Action and Awareness Fund, Environment and Climate Change Canada, Government of Canada.
Harvesters Support Grant
Description: The Harvesters Support Grant is a new addition to the Nutrition North Canada program. It was developed in direct collaboration with Indigenous partners to increase their access to traditional foods by reducing the high costs associated with traditional hunting and harvesting. The grant supports the complete range of harvesting activities and traditions, from community decision making to ceremony and celebration of the harvest. It respects the inherent hunting and harvesting rights of Indigenous peoples in Canada.
It provides $40 million over 5 years, and $8 million per year ongoing, to Indigenous governments and organizations representing eligible Nutrition North Canada communities.
How does the grant work?
The Harvesters Support Grant relies on a distinctions-based design to maximize Indigenous control and decision-making. Because each community has unique harvesting needs and priorities, dedicated grant agreements have been developed to ensure that Indigenous governments and organizations can decide how best to support their own communities. The grant is supporting a wide range of harvesting activities such as:
transportation and related capital investments
maintenance of equipment
harvesting equipment
temporary shelter and outdoor clothing
safety and rescue equipment
training, certification and education
traditional knowledge, practices and techniques
processing, food preparation and storage such as community freezers
maintenance of harvesting sites
innovation in harvesting
community, research, culture, and food sharing initiatives
There are 2 funding streams:
Stream 1 – Land claim organization and self-government stream
For communities with settled land claims, grant funding is being provided to land claim organizations. These organizations will decide how the grant is spent and how harvesting support programs are administered.
Stream 2 – Communities stream
For communities without a settled land claim, an Indigenous organization representing the community will receive and administer the grant. With input from community leaders, the organization will develop the program within their region.
Eligibility:
To be eligible for the Harvesters Support Grant, a community must:
lack year-round surface transportation (no permanent road, rail or marine access)
be reliant on air transportation for more than 8 months each year
meet the territorial or provincial definition of a northern community
have an airport, post office, or grocery store
have a year-round population according to the national census
Eight communities eligible for the retail subsidy are not reliant on air transportation for more than 8 months each year, and are not eligible for the Harvesters Support Grant as a result. These communities are all on the Quebec North Shore:
Pakuashipi

La Tabatiere

Mutton Bay

Tête-à-la-Baleine

Harrington Harbour
Chevery

La Romaine

Port Menier
Source: Information obtained from Government of Canada website. For more information on this funding opportunity, click here.