Mi'kmaq Confederacy of Prince Edward Island Supports Communities in Adapting to Climate Change
Since 2013, the Mi'kmaq Confederacy of Prince Edward Island (MCPEI) has supported the communities of Lennox Island and Abegweit First Nations in preparing and adapting to climate change impacts.
Recent studies have shown that climate change is contributing to sea-level rise, coastal erosion, and increased storm surges on Prince Edward Island, putting communities such as Lennox Island at risk. Coastal residences, critical community infrastructure, sacred grounds, and medicinal plant sites are all under threat from climate change and we needed to prepare for these challenges.
Having the community identify their priorities and concerns has been integral to the success of this project. We hosted workshops with Lennox Island and Abegweit First Nations to identify and prioritize key climate risks to the community. Issues related to emergency response and human health, vulnerability of infrastructure, sea-level rise, coastal flooding, and vulnerability of traditional fishing and hunting areas were identified as key concerns by the community. "Climate change adaptation and the protection of our home, Lennox Island, is one of the most pressing challenges we face today" stated Chief Darlene Bernard of Lennox Island First Nation. "We appreciate the partnerships that have formed to help us achieve that goal."
We also partnered with the University of Prince Edward Island's Climate Land and Simon Fraser University's Spatial Interface Research Lab on the Coastal Impact Visualization Environment (CLIVE). CLIVE combines historical erosion data, model projections of sea-level rise, aerial imagery, and high-resolution digital elevation data to draw map out coastal erosion and future sea-level rise scenarios. By using 3D game engine technology, CLIVE is able to communicate climate change information to community members that is visual and easy to understand.
We are planning future activities that will include continued community consultations, development of an archeological climate change risk assessment tool, and training on how to operate UAVs for community members. Our project will culminate in the development of an adaptation plan that will help our communities improve their resiliency to climate change.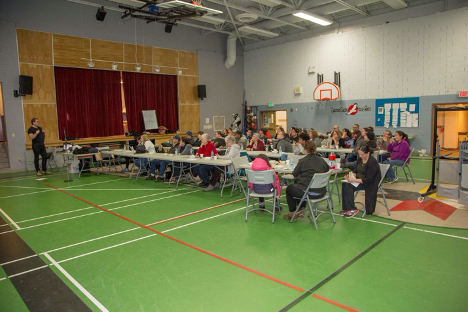 Caption: Audience at Lennox Island (PEI) attending community workshop on climate change
Blog Post from: Mi'kmaq Confederacy of Prince Edward Island
https://indigenousclimatehub.ca/wp-content/uploads/2020/06/Lennox.png
312
468
IndigenousClimateHub
https://indigenousclimatehub.ca/wp-content/uploads/2020/10/logo-horiz-clr-01-small-300x88.png
IndigenousClimateHub
2020-06-23 16:30:36
2020-06-23 16:30:36
Mi'kmaq Confederacy of Prince Edward Island Supports Communities in Adapting to Climate Change