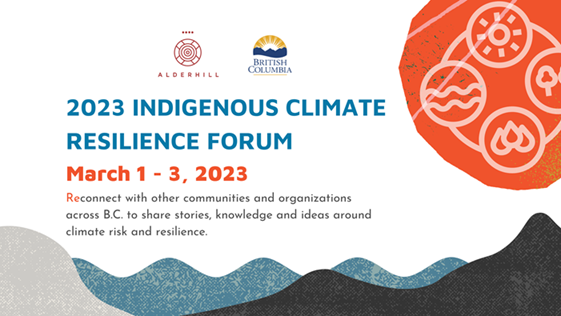 The second Indigenous Climate Resilience Forum (ICR Forum) will be taking place virtually from March 1-3, 2023.
The ICR Forum is a free, virtual event designed to inform, connect and support Indigenous communities in climate adaptation and resilience. This year's theme is climate change risk and resilience. This Forum is being hosted by Alderhill Planning Inc., in collaboration with the B.C. Climate Action Secretariat (CAS). There will be presentations, workshops, story-sharing, engagement from the new Ministry of Emergency Management and Climate Readiness (EMCR), opportunities to network, a cross-ministry open house for climate-related discussions, a keynote address by Ta'Kaiya Blaney and more!
Last year's Forum was a huge success and we are thrilled to bring Indigenous community members and Indigenous organizations from across the province together again.
Visit the event website for a high-level agenda and other info.
How to RSVP:
If you are interested in attending, please register here. A calendar hold and Zoom link will be provided to you automatically and our team will be in touch in mid-February with more information (including presentation descriptions).
(Image Source: Event poster from event website).